I thought it would be fun to do this, so you guys can see my preferences etc 🙂
1.What is your favourite film of all time?
This question is unfair to any cinephile! But I always answer with the following:
This film has the 80's, the brat pack, stellar music and pure nostalgia for me!
Some other notable mentions: Amelie, A Brief Encounter, When Harry Met Sally, The Shinning, The Exorcist, Metropolis, and SO MANY MORE.
2.What is your favourite scene from that film?
There are so many!! like the whole film is my favourite, can't forget that iconic ending though..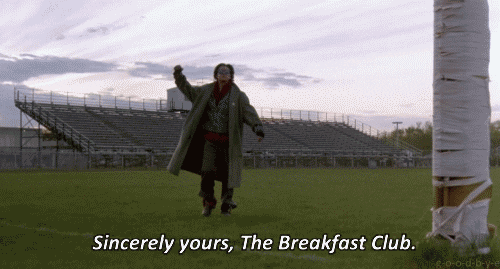 3. Who is your favourite actor and actress?
I really like French actresses so,
*Juliette Binoche too, and pretty much ALL old hollywood actresses.
ACTORS:
Heath Ledger before her left us 😦
Michael Fassbender
Ralph Fiennes
*James Mcavoy is really good too…
4. What was the first film you saw in the cinema?
Bugs Life… from what i remember 
5. Favourite director?
Stanley Kubrick!
6. Favourite guilty pleasure film?
Grease is the one!
7. What is a film you hate that everyone loves?
This is hard to answer… The Fault in our Stars? maybe? OR Magic Mike? Either way I don't like em.
8. What is a film you love that everyone hates?
Only God Forgives, this film got such a bad reception, but I LOVED it.
9. Which actor/actress do you have a crush on?
Leonardo DiCaprio, & River Phoenix..
and James Dean, Montgomery Clift, 80'sEric Stolz and James Spader, and Benedict Cumberbatch .. SO MANY.
10. What is your favourite animated film?
Spritied Away! it really is perfect.
Other mentions though:, Anastasia, the Lion King and Lady and the Tramp.
11. Who is your favourite film villain?
Scar, i mean he's so sassy.
And I can't forget The Joker
12. One remake you wish had never been made.
WILLY WONKA & THE CHOCOLATE FACOTRY. no thanks.
13. Favourite film genre?
HORROR mwuahaha
OR simply a psychological thriller 😉
14. Ever walked out of a film?
Not for reasons of unenjoyment.
ANND that is it! thanks for reading, if you decide to do this tag, link me so I can read yours 🙂